Get your audience on their feet, singing, to her original song
Beauty Like A Rock Beauty Like A Rock ▶ custom player
Start Your Event with Laughter, Movement, and Song
Opening and Closing Keynotes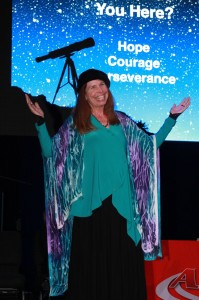 Get your audience on their feet, singing, to her original song.
Vicki will begin your event with not only entertainment and interaction
but she will deliver YOUR overall event theme with passion and
amusement, preparing your attendees for a great event to come.
If your conference is a one-day event, Vicki will be able to present a relevant Closing Keynote that will reflect the day's events.
Keynotes for Multi-day Events
If you choose this option, Vicki will not only start your conference out with a great Opening Keynote but she will attend your entire conference, plus the break-out sessions, and present a Closing Keynote with insight, poignancy, humor, and great memories. Each closing keynote is one-of-a-kind. You may record and distribute this closing session as a memento for your members ~ Vicki's gift to you.
"Vicki's messages of self confidence and tolerance took the group by storm and in no time she had the crowd participating with enthusiasm. The reviews from the event were wonderful and Vicki played a huge part in the day's success. If you are looking for someone to motivate, inspire and entertain then I certainly would recommend Vicki Hannah Lein as your next keynote speaker." ~Jan Hiatt, Women's Health Pavilion,
Sample Keynote Topics
From Frustration to Funny in 10 Seconds Flat:

3 Steps that Work Every Time You Actually Do them

Overcome any obstacle with humor and grit

. Practice laughing now because it is lighter than you think
Coping with Difficult People Without Becoming One of Them
Aging with Grace, Whoever She is
Recovering Your Natural Creative Self
Comparing is a Little Murder:

Four Steps to Free Yourself from the Burden of Other People's Opinions

Finding the Beauty in Your Blemishes
Taking Yourself with You Wherever You Go: Daring to Live Authentically Ever After
Finding the Courage to Mourn: Your Presence is Often Enough
---
These topics can be used as workshops or keynotes. Vicki customizes her presentations to fit the unique needs of the groups she works with. Get started with booking Vicki for your event. Please fill out the form below: